Reintjes: Changing Gears
By Greg Trauthwein
Reintjes is a name known well in maritime circles, a German engineering and manufacturing company which has designed and built some of the most rugged gearboxes on the waterways. Klaus Deleroi took the helm at Reintjes in January 2015, and he is in the midst of steering a change in mindset at the company: a mindset that is more customer-centric to better understand and fulfill the needs of the people and companies that own and operate vessels. We met with Deleroi in his Hameln, Germany, HQ for insights on the path ahead.


When Klaus Deleroi decided to switch gears on his career, leaving a life time of selling engines – first for MTU for 14 years including five years heading sales in Asia, and then for MAN Diesel & Turbo as the global head of four-stroke engine sales – the decision to take the helm of Reintjes simply felt right. From the outset he liked the approach from the company, as his predecessor at the helm of Reintjes first came to him a full 30 months in advance of his retirement to gauge Deleroi's interest in running the company. Next he appreciated that Reintjes, as a trust-owned company, has the luxury of making decisions and business plans with the long-term in mind, not beholden to the oft fickle masses that can drive public companies.

"My dream always was to own a company, but running Reintjes is about as close as you can get to running your own company," Deleroi said. "I am the managing director, and we are a trust-based company, which gives to us very long-term incentives, meaning we think long-term and make long-term investments."

Finally, an entrepreneur at heart, Deleroi saw Reintjes as a challenge. While long-holding the dream of owning and running his own company, he viewed the Reintjes top post as an opportunity to meld his outgoing, people-first business principles with the exceptional engineering and manufacturing pedigree of Reintjes, ultimately aiming to make the company a more dominant player in the global maritime market while expanding its horizons into industrial applications.
But Deleroi is quick to admit that his first inclination on taking the top seat was wrong.

"When I joined Reintjes I made an oath to myself: for two months I will sit here and I will talk to a lot of people and learn," said Deleroi. "I knew Reintjes from my MTU and MAN days, and I dislike new bosses that come in and think 'everything is wrong, this is right.' Unfortunately though, after three days, I sat in my 'hut' here and thought 'no, I cannot just sit here; I have to start making decisions now to make some changes.'"

People First
Deleroi is well versed in German excellence in engineering, and he knows the quality of product is the rule to survive long-term in the rigorous maritime environment. But he also believes that producing a great product is simply not enough, particularly in the modern maritime world. His vision of Reintjes extends far beyond the factory floor, as he sees the company evolving to become a true knowledge partner on all matters maritime propulsion. His mission is to get the entire organization, top to bottom, moving forward with a unified understanding of the customer – an understanding their business, of the particular ways in which they operate their vessels, and of their needs. "The customer is front and center, always," Deleroi said.

"Engineering know-how is our strength; inside and out we know how the gearbox is functioning and how it needs to be fitted," said Deleroi. "But a weakeness is the organization structure, which is focused too much on production and product-related; we have to open up to become more flexible and to adapt to customer needs even on a per-order basis."

When he was being courted by Reintjes, he saw a solid company with robust products and good people, with that caveat. "The organization needed some fine-tuning to adapt to the market," said Deleroi. "What we have to do is put the customer in center of our focus in everything that we do. You need to understand the customer and their needs; you need to know how they use their boats. The same applies for our 'second leg' that we want to build up, and that is the industrial gear market."

The Propulsion Train Specialist
Just prior to our arrival Reintjes has completed its global sales and marketing summit, gathering sales and service personnel and distributors from around the globe for three days of intensive meetings and team bonding. From this emerged the skeleton of what Deleroi envisions as a long-term plan forward.

Deleroi and his team are working to deliver a 10-year plan, with incremental steps along the way, that will define not only the company will operate, but how and where it will sell it products and services. Part of that plan undoubtedly will be a substantial, prolonged investment in people and training; training with the goal of ensuring that all on the Reintjes team are pointed in the same direction with purpose and an eye on the customer and its needs. "We discussed that just this morning," Deleroi said. "I want to have the company work to be more of a consultant with our customers. I want this company to be renowned as the propulsion train specialist; in the end they might not sell me the whole thing, but they can consult with me on the whole propulsion train; This is my vision."

Playing the role of power train expert is particularly topical in today's maritime industry, as owners are under consistent pressure to meet ever stricter emissions targets. While the main focus has been on primary power plant and fuel, Deleroi said the changes can impact the entire power train. "The ratings and set up of the gearbox can be a bit different," said Deleroi. As the power range of the engine is changing, the speed is changing too, sometimes requiring different gearbox ratios. Also when the engine makers change their combustion, the momentum curve is changing too, meaning that consideration must be given to the gearbox too, to ensure most efficient operation.

Deleroi well understands the need to deliver a robust and technically correct gearbox solutions to its customers. It is the melding of the personnel and the technical though that is the critical factor in forging the company's path ahead, as understanding customer needs, working with customers to deliver the best technical solution, goes hand-in-hand with developing efficiently designed and manufactured custom products and systems to meet those demands. "There is an intelligent way in which we can bring both together," said Deleroi, meaning the manufacturing efficiency benefits of a standard product line melded with the individual customization per client requests. "It is possible to have lean manufacturing while having one-off products. I don't see Reintjes as a mass producer of gearboxes, meaning that we deliver 2000 gearboxes of one type, for example. I see our strengths in our engineering know-how adapted to special solutions for customers, while still having a base of standard gearboxes."

Fickle Markets
When asked about the indicators monitored by Reintjes to accurately assess the future direction of its business, Deleroi's answer was a bit ominous: the price of oil and activity in China.

"Of course one indicator is the oil price, which is a big indicator for the offshore oil industry. When the oil price goes below $70 per barrel," offshore oil and gas drilling activities tend to dry up.

While the price of oil bears a direct and readily visible connection to offshore oil and gas activities, the impact of Chinese industrial activity is perhaps a bit more obscure but equally significant. With industrial activity on the wane in China, there is lower-demand for coal, meaning lower demand too for the inland tow and barges that bring the coal to market or to offload to bigger ships. There are various other bits of information, following charter rates for example, but the real market intelligence comes from information gathered from our clients, from talking to people, said Deleroi, as it is the engine makers, the designers and naval architects that generally are the first ones to know of emerging trends, serving as bellwethers for the market at large. "Two of the market sectors are presently down – the offshore business and the tugboat business – so we have to compensate with additional business from other market segments," said Deleroi. In particular, he sees four market sectors primed for growth:
• Yacht Business: Reintjes sees growth here, particularly with its new Fortjes podded system;
• Fishing Business: The fishing fleet around the world is very old and is in need of being rebuilt and renovated.
• Military & Government business: As the world is increasingly in conflict, more countries are investing in patrol boats, frigates and corvettes.
• Industrial Business: This is a 'second leg' for Reintjes. To date it has seven gearboxes sold, with five running. "The customer's are currently very happy with our quality, and this is an area where we want to grow, mainly in the steam turbine market. We are lucky in that with MAN Diesel & Turbo we have a good references (the first six units are sold to them)."

The Reintjes Product Family
As a true German engineered solutions company, the Reintjes brand starts and ends with a rugged product line-up for the maritime market that is field-proven and manufactured to the highest degree of quality. First and foremost, the Reintjes name is synonymous with marine gearboxes, and it offers a broad selection from small to large, for propellers, waterjets and turbo gearboxes, mainly targeting rigorous applications in the Workboat, Fast Naval Craft, Fast Ferries and Yachts. The company has an expanded range of "Special" gearbox solutions that includes:
• The Fortjes podded package, a space-saving design with a hybrid option available.
• A Hybrid Gearbox which is ideal for slow-speed operations, and electric drives to promote smooth running, low noise and low energy consumption.
• Dredging Gearboxes developed specifically to handle the rigors of dredging, including on pumps installed inside the vessel and dredge pumps in use under water.
• Step-up Gearboxes.

Investment in People
On the occasion of interviewing Klaus Deleroi, the new managing director of Reintjes, a group of sales and service agents from around the globe, including Ralph, Karl and Chris Senner from Karl Senner Inc., the Reintjes distributor in North America were in Hameln, Germany for a week of sales and marketing meetings. The Senner organization is a unique entity in Deleroi's view, as it has fully embraced the notion of not simply selling product, rather gaining experience and knowledge of the product, system and manufacture process, and melding this with depth and insight on customer needs. Ralph, Karl and Chris have actually worked in the Reintjes factory for extended periods, with Ralph working in Hameln for three years in the 1970s, and brothers Karl and Chris living and working in Hameln for a full year recently, working in all aspects of design and manufacture to gain invaluable knowledge along the way. "I think our machining capability and our facilities are good, I think the biggest investment that we need to make is our investment in people, which goes together with our new philosophy to be more customer orientated, understanding our customer's needs and how they are using their machines," said Deleroi. "The Senner's are actually a perfect example" of the philosophy I am trying to impart across our entire sales and marketing network, in terms of learning the product, learning the process inside and out, and melding that with knowledge of the customer's needs. "We have to speak to our clients eye-to-eye, and not just to give a sales pitch. This is where we have to invest in the training of our people."


(As published in the November 2015 edition of Maritime Reporter & Engineering News - http://magazines.marinelink.com/Magazines/MaritimeReporter)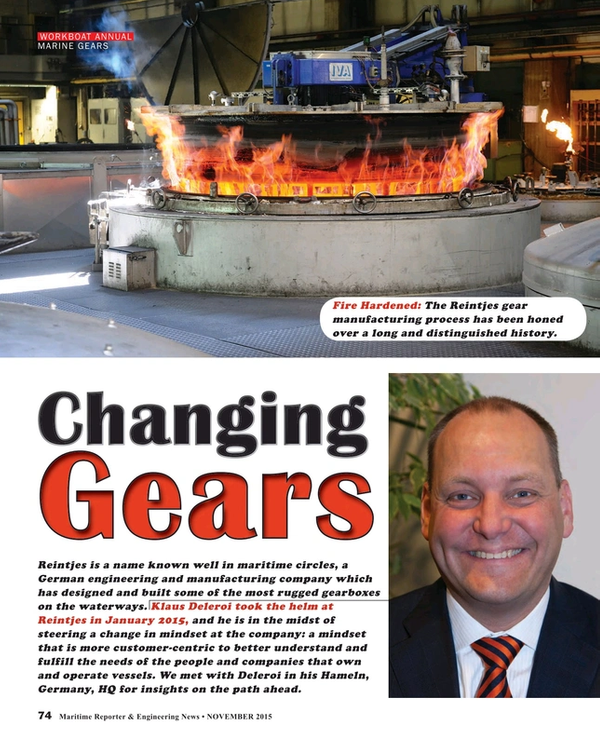 Read Reintjes: Changing Gears in Pdf, Flash or Html5 edition of November 2015 Maritime Reporter
Other stories from November 2015 issue
Content